Slate Rock Safety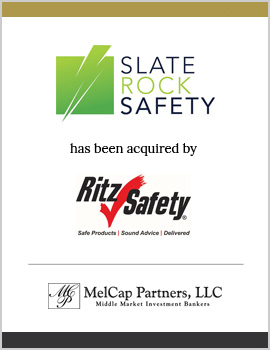 Company Description
Slate Rock Safety, LLC is a leading specialty distributor, ecommerce retailer, and corporate clothing solutions provider of work and safety work apparel, particularly specializing in flame resistant safety clothing.
Services Provided
MelCap Partners, LLC ("MelCap") successfully represented Slate Rock in this sale transaction. As the Company's exclusive investment-bankers through this process, MelCap Partners assisted Slate Rock in selling the business to the most logical strategic buyer for the business.
Result
In an effort to continue to support the Company's strategic growth plans, and to provide its customers with continued high-quality products, Slate Rock was sold to Ritz Safety, a strategic buyer located in Dayton, Ohio.
"We knew that in order to keep growing at the current pace, we needed to find a strategic acquirer that aligned with our culture and customer-centric approach. Through a rigorous and thorough process, MelCap Partners successfully guided us through the process of identifying and aligning with Ritz Safety. We found MelCap to operate with honesty and integrity in every aspect of the search and ultimately the transaction. We could not be more pleased with the outcome."
President, Mrs. Kim Wilson, and COO, Mr. Chad Wilson
Slate Rock Safety's President
Providing the Services Business Owners Need for Over Two Decades
At MelCap Partners, our team of experienced industry professionals has a high amount of respect for business owners making pivotal decisions — whether they're selling their business or expanding. We do our best to provide services that honor the work they've put into building their business from the ground up.
We know the big events concerning your business are hard, especially if family is involved, and that's why our team is ready to help so you don't have to go through the process alone. We'll help you navigate any challenges that come your way so you can successfully meet your goals and objectives.
If you're ready for help taking the next step in pursuing your goals, we'd love to use our experience to get you there. We know that getting to this point hasn't been easy and we're here to walk you through the process. If you're ready to start, we'd love to have you connect with one of our professionals today.
Category:

Sell-Side M&A, Specialty Distribution
Need help with your transaction?
We work with you to ensure that we understand your goals to put a plan in place for your transaction.
Let's Talk