Sawmill Creek Resort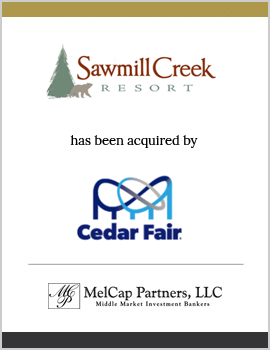 Company Description
Sawmill Creek Resort is a 236-room resort situated on 235 acres in Huron, Ohio with a 50,000-square-foot conference facility, an 18-hole golf course, and marina.
Services Provided
MelCap Partners, LLC served as Sawmill's investment banker and financial advisor in the sale of the business to one of the most logical strategic buyers for the business, Cedar Fair Entertainment Company (NYSE: FUN). Cedar Fair is one of the largest regional amusement park and resort operators in the world.
The Result
In an effort to provide the shareholder with liquidity and to transition the business to the next level, the shareholders made the decision to sell the company.
Category:

Consumer & Retail, Sell-Side M&A
Need help with your transaction?
We work with you to ensure that we understand your goals to put a plan in place for your transaction.
Let's Talk