Reuther Mold & Mfg. Co., Inc.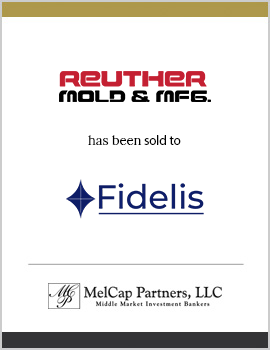 Company Description
Reuther Mold & Mfg. Co., Inc. (the "Company" or "Reuther"), is a worldwide leader in the design and manufacture of a variety of mold and tooling products that has been in operation for more than 71 years. The Company serves a wide array of end markets, with a particular focus and expertise in aerospace and defense. The Company leverages an experienced team, proven design and manufacturing processes, and leading technology to complete the most complex mold and tooling jobs in the market.
Reuther's comprehensive molding and tooling capabilities, coupled with its significant investment in machinery and equipment, have made the Company one of the premier molding and manufacturing businesses in the industry.
Services Provided
MelCap Partners served as the exclusive investment banker and financial advisor to Reuther in the sale of the Company. We'd like to thank Reuther for hiring MelCap Partners to represent the Company in this transaction. It was an honor and pleasure to work with the Company throughout this exciting process.
Result
In an effort to provide the shareholders with liquidity, and to continue to support the Company's strategic growth plans, MelCap Partners was able to successfully identify the ideal buyer for the business. As a result, Reuther was sold to Fidelis Holdings, LLC ("Fidelis"), headquartered in Bingham Farms, MI. Fidelis is a holding company that owns and acquires manufacturing companies in the highly engineered product space.
"I am excited for the ownership transition to Fidelis. Karl A. and Karl A.A., my grandfather who founded the Company and my dad who carried us into the CNC world, would be pleased for this next chapter for our Company. It has been an honor and privilege for me as the third-generation owner to lead Reuther Mold for the past three decades, working with hundreds of talented and dedicated employees making some 'neat stuff.' I will miss it. I thank my employees and my family for their huge sacrifices, and I thank God for the wisdom and strength that He entrusted to me. I wish the best for Fidelis and its employees. I would also like to thank MelCap for all their efforts to bring this sale across the finish line."
Mr. Karl A. Reuther, II
President of Reuther Mold
Providing the Services Business Owners Need for Over Two Decades
At MelCap Partners, our team of experienced industry professionals has a high amount of respect for business owners making pivotal decisions — whether they're selling their business or expanding. We do our best to provide services that honor the work they've put into building their business from the ground up.
We know the big events concerning your business are hard, especially if family is involved, and that's why our team is ready to help so you don't have to go through the process alone. We'll help you navigate any challenges that come your way so you can successfully meet your goals and objectives.
If you're ready for help taking the next step in pursuing your goals, we'd love to use our experience to get you there. We know that getting to this point hasn't been easy and we're here to walk you through the process. If you're ready to start, we'd love to have you connect with one of our professionals today.
Need help with your transaction?
We work with you to ensure that we understand your goals to put a plan in place for your transaction.
Let's Talk