Professional Pipe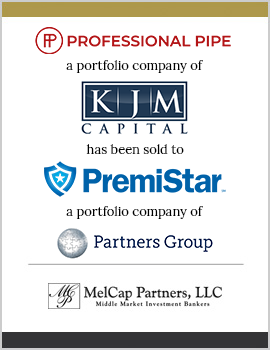 Company Description
Professional Pipe (the "Company" or "Pro Pipe"), headquartered in Norwood, North Carolina, is a leading provider of process piping and related mechanical services for new construction, retrofit, and repair & maintenance projects. Pro Pipe utilizes a managed vendor service delivery model, and the Company's extensive network of sub-contractors is comprised of laborers, who are supervised by highly-trained in-house project managers. Pro Pipe's service model has enabled the Company to provide a turnkey mechanical solution to blue-chip customers across the United States.
Pro Pipe has established a niche in providing excellent process piping services for the poultry processing, beef processing, energy, HVAC, and commercial refrigeration markets – as well as many others.
Services Provided
MelCap Partners served as the exclusive investment banker and financial advisor to Pro Pipe and KJM Capital in the sale of the Company. MelCap Partners would like to thank Pro Pipe and KJM Capital for hiring us to represent the Company in this transaction. It was an honor and pleasure to work with Pro Pipe and KJM Capital throughout this exciting process.
Result
In an effort to provide the shareholders with liquidity, and to continue to support the Company's strategic growth plans, MelCap Partners was able to successfully identify the ideal buyer for the business. As a result, Pro Pipe was sold to PremiStar (formerly Reedy Industries), headquartered in Deerfield, IL. PremiStar is a leader in the provision of commercial HVAC, building automation, and plumbing services throughout the United States. Pro Pipe will serve as a vital piece of PremiStar's strategic initiative to expand its core service offering into process piping – particularly outside of HVAC and plumbing. The acquisition also provides PremiStar and Pro Pipe with substantial cross-selling opportunities with both businesses. PremiStar is a portfolio company of Partners Group, headquartered in Baar, Switzerland. Partners Group is one of the largest global private market investment managers in the world, and currently maintains nearly $150 billion of assets under management.
"MelCap Partners have been an absolute wonderful partner to work with on our transaction. Their professionalism is unsurpassed. We would recommend them to anyone. Thank you guys!"
John Tyson
President of Pro Pipe
Providing the Services Business Owners Need for Over Two Decades
At MelCap Partners, our team of experienced industry professionals has a high amount of respect for business owners making pivotal decisions — whether they're selling their business or expanding. We do our best to provide services that honor the work they've put into building their business from the ground up.
We know the big events concerning your business are hard, especially if family is involved, and that's why our team is ready to help so you don't have to go through the process alone. We'll help you navigate any challenges that come your way so you can successfully meet your goals and objectives.
If you're ready for help taking the next step in pursuing your goals, we'd love to use our experience to get you there. We know that getting to this point hasn't been easy and we're here to walk you through the process. If you're ready to start, we'd love to have you connect with one of our professionals today.
Category:

Industrials, Private Equity, Sell-Side M&A
Need help with your transaction?
We work with you to ensure that we understand your goals to put a plan in place for your transaction.
Let's Talk