Pool Tables USA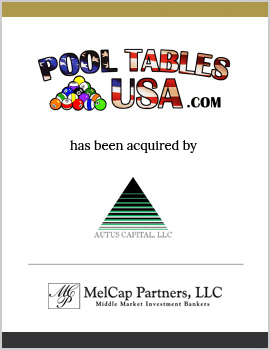 Company Description
Pool Tables USA.com is a leading retailer and distributor of pool tables and related game room furniture.  The Company has a unique business model that has produced strong growth and high margins in a low-cost structure.
Services Provided
MelCap Partners acted as the buy-side advisor in the acquisition of Pool Tables.
Result
Pool Tables was successfully acquired by a newly formed entity, Meritage Retail Network, Inc., that is owned and controlled by Autus Capital, LLC.
"I have now completed over 6 transactions with the principals of MelCap Partners. They continue to provide senior level investment banking services to the middle market. I look forward to completing many more deals with them over the years to come – thanks!"
Jeffrey D. Church
Meritage Retail's Chairman
Providing the Services Business Owners Need for Over Two Decades
At MelCap Partners, our team of experienced industry professionals has a high amount of respect for business owners making pivotal decisions — whether they're selling their business or expanding. We do our best to provide services that honor the work they've put into building their business from the ground up.
We know the big events concerning your business are hard, especially if family is involved, and that's why our team is ready to help so you don't have to go through the process alone. We'll help you navigate any challenges that come your way so you can successfully meet your goals and objectives.
If you're ready for help taking the next step in pursuing your goals, we'd love to use our experience to get you there. We know that getting to this point hasn't been easy and we're here to walk you through the process. If you're ready to start, we'd love to have you connect with one of our professionals today.
Category:

Buy-Side M&A, Consumer & Retail, Private Equity, Specialty Distribution
Need help with your transaction?
We work with you to ensure that we understand your goals to put a plan in place for your transaction.
Let's Talk