Lee Brass Foundry, LLC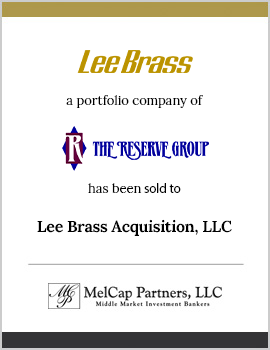 Company Description
Lee Brass Foundry, LLC (the "Company" or "Lee Brass"), a portfolio company of The Reserve Group ("TRG"), founded in 1917, is one of the most versatile and largest brass foundries in the United States, providing casting and machining services for low-lead alloy components. The Company is the largest producer of threaded brass fittings in the U.S. and offers threaded brass fittings, unions, and flanges.
The Company provides complete service for its products, from design engineering to shipping for the plumbing, industrial, marine, and commercial industries.
Services Provided
MelCap Partners served as the exclusive investment banker and financial advisor to Lee Brass in the sale of the Company. We'd like to thank The Reserve Group for hiring MelCap Partners to represent Lee Brass in this transaction. It was an honor and pleasure to work with TRG and Lee Brass teams throughout this exciting process.
Result
In an effort to provide TRG and its partners with liquidity, and to continue to support the Company's strategic growth plans, MelCap Partners was able to successfully identify the ideal buyer for the business. As a result, Lee Brass was sold to a newly formed entity of Fidelis Holdings, LLC ("Fidelis"), headquartered in Bingham Farms, MI. Fidelis is a holding company that owns and acquires manufacturing companies in the highly engineered product space.
"We would like to thank the MelCap team for their excellent service and performance to navigate the sale process of Lee Brass. From start to finish, the MelCap team were diligent and thorough in leading our unique situation. When obstacles arose in the process, MelCap was experienced and thoughtful to overcome them. Our expectations were exceeded and we look forward to working with them again in the future."
Mr. Richard M. Hamlin, III
Executive Vice President of TRG
Providing the Services Business Owners Need for Over Two Decades
At MelCap Partners, our team of experienced industry professionals has a high amount of respect for business owners making pivotal decisions — whether they're selling their business or expanding. We do our best to provide services that honor the work they've put into building their business from the ground up.
We know the big events concerning your business are hard, especially if family is involved, and that's why our team is ready to help so you don't have to go through the process alone. We'll help you navigate any challenges that come your way so you can successfully meet your goals and objectives.
If you're ready for help taking the next step in pursuing your goals, we'd love to use our experience to get you there. We know that getting to this point hasn't been easy and we're here to walk you through the process. If you're ready to start, we'd love to have you connect with one of our professionals today.
Category:

Industrials, Private Equity, Sell-Side M&A
Need help with your transaction?
We work with you to ensure that we understand your goals to put a plan in place for your transaction.
Let's Talk