Kid Works Creative Learning Centers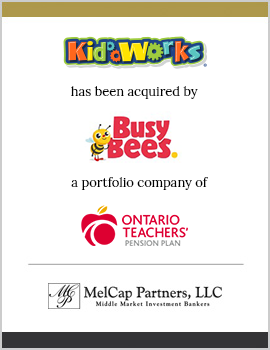 Company Description
Kid Works Creative Learning Centers (the "Company" or "Kid Works"), headquartered in Cincinnati, Ohio — with 4 locations throughout greater Cincinnati, is a regional leader in the provision of child care services and early childhood education. The Company provides its comprehensive child care services to infants, toddlers, preschool, prekindergarten ("pre-k"), and school age children.
Kid Works serves both government subsidized and private pay families — with the majority of enrollment attributed to the government subsidized demographic. As such, each of the Company's 4 creative learning centers have successfully achieved the 5-Star Step-Up-To-Quality ("SUTQ") rating — the highest possible rating given by the state of Ohio.
Buyer Description
Kid Works was acquired by BrightPath Early Learning ("BrightPath"), headquartered in Toronto, Canada — which is the North American division of Busy Bees, headquartered in London, England. Busy Bees is the largest childcare service provider in Ireland, Malaysia, Singapore, and the United Kingdom. In total, Busy Bees operates nearly 700 child care centers across 9 countries, while BrightPath operates more than 150 child care centers across the United States and Canada.
Services Provided and Results
MelCap Partners served as the exclusive investment banker and financial advisor to Kid Works in the sale of the Company. We'd like to thank the shareholders, Dennis & Katja Creech for hiring MelCap Partners to represent the Company in this transaction. It was an honor and pleasure to work with the Company throughout this exciting process.
MelCap's comprehensive sales and marketing process allowed for the successful identification and sale of the Company to the ideal and most logical buyer for the business: BrightPath / Busy Bees. Kid Works will serve as an instrumental part in Busy Bees' strategy to grow and expand its child care presence throughout North America by acquiring market leaders in their respective geographies. Busy Bees intends to keep existing management at Kid Works in place, and grow the already exceptional Kid Works brand throughout the Great Lakes / Midwestern United States.
"The process from start to finish was outstanding! The MelCap team immersed themselves in our business so much so that they essentially felt like operating partners as we went through the process. This enabled them to personally represent us as though they had worked with us for years and produce high-quality, in-depth marketing, and financial materials. Their process revealed the perfect company to acquire ours and we look forward to seeing Kid Works thrive as part of the Busy Bees family. We couldn't be happier with the MelCap team and our ultimate outcome!"
Mr. Dennis Creech
Owner of Kid Works
Providing the Services Business Owners Need for Over Two Decades
At MelCap Partners, our team of experienced industry professionals has a high amount of respect for business owners making pivotal decisions — whether they're selling their business or expanding. We do our best to provide services that honor the work they've put into building their business from the ground up.
We know the big events concerning your business are hard, especially if family is involved, and that's why our team is ready to help so you don't have to go through the process alone. We'll help you navigate any challenges that come your way so you can successfully meet your goals and objectives.
If you're ready for help taking the next step in pursuing your goals, we'd love to use our experience to get you there. We know that getting to this point hasn't been easy and we're here to walk you through the process. If you're ready to start, we'd love to have you connect with one of our professionals today.
Category:

Consumer & Retail, Private Equity, Sell-Side M&A
Need help with your transaction?
We work with you to ensure that we understand your goals to put a plan in place for your transaction.
Let's Talk