Cleveland Wire Cloth & Manufacturing Co.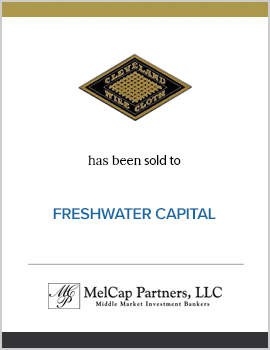 Company Description
Cleveland Wire Cloth & Manufacturing Co. ("the Company or CWC") is a leading U.S. fabricator of industrial wire cloth and wire mesh products, whose products include industrial wire mesh baskets, vibrator screens, cages and safety guards, filters, strainers, and sieves. The Company offers products in nearly every ductile metal or alloy that can be drawn into wire, and specializes in corrosion-resistant and heat-resistant alloys.
Given the broad applicability of its products, the Company serves a wide variety of end markets, including food processing, electronics, construction and architecture, farming and agriculture, pharmaceuticals and medical equipment, consumer products, energy, and aerospace.
Services Provided
MelCap Partners served as CWC's exclusive investment banker and financial advisor in the sale of the Company. We'd like to thank Chet Crone, President & Owner of Cleveland Wire Cloth for hiring MelCap Partners to represent CWC in this transaction. It was an honor and pleasure to work with him and his team throughout this exciting process.
Result
In an effort to provide the shareholders of CWC with liquidity, and to continue to support the Company's strategic growth plans, MelCap Partners was able to successfully identify the ideal buyer for the business. As a result, CWC was sold to Freshwater Capital, a Cleveland based family investment firm focused on making controlling investments in middle-market manufacturing and specialty distribution businesses based in Northeast Ohio and the Great Lakes region. This will create the perfect opportunity for CWC to continue growth and expand offerings to its customer base.
Providing the Services Business Owners Need for Over Two Decades
At MelCap Partners, our team of experienced industry professionals has a high amount of respect for business owners making pivotal decisions — whether they're selling their business or expanding. We do our best to provide services that honor the work they've put into building their business from the ground up.
We know the big events concerning your business are hard, especially if family is involved, and that's why our team is ready to help so you don't have to go through the process alone. We'll help you navigate any challenges that come your way so you can successfully meet your goals and objectives.
If you're ready for help taking the next step in pursuing your goals, we'd love to use our experience to get you there. We know that getting to this point hasn't been easy and we're here to walk you through the process. If you're ready to start, we'd love to have you connect with one of our professionals today.
Category:

Industrials, Private Equity, Sell-Side M&A
Need help with your transaction?
We work with you to ensure that we understand your goals to put a plan in place for your transaction.
Let's Talk