B&B Music & Video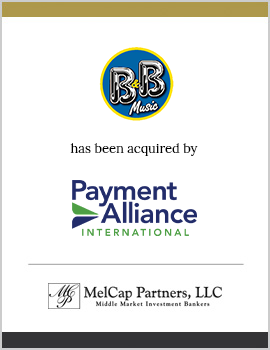 Company Description
B&B Music & Video ("B&B") has been successfully operating a coin-operated entertainment business since 1957. B&B is also a leading operator of ATMs and Bitcoin ATMs in the Greater Cleveland area market.
Services Provided
MelCap Partners served as B&B's exclusive investment banker and financial advisor in the sale of the ATM and Bitcoin divisions ("Divisions"). We'd like to thank the Shareholders at B&B, Evan and Greg Brown, as well as Jordan Brown, for hiring MelCap Partners to represent them in this important transaction. It was an honor and pleasure to work with them through this exciting process.
Result
In an effort to provide the Shareholders with liquidity, and to continue to support the Divisions' strategic growth plans, MelCap was able to successfully identify the most logical buyer for the Divisions. As a result, the ATM and Bitcoin Divisions were sold to Payment Alliance International ("PAI"), headquartered in Louisville, KY. PAI is the nation's largest, privately-held provider of ATM portfolio management tools and services, including transaction processing, bank sponsorships, maintenance, cash in transit servicing and PAI Reports for more than 100,000 ATMs. This acquisition brings over 580 company owned ATMs to PAI, along with 120 merchant owned sites. In addition, the acquisition of B&B's ATM portfolio also adds 20 Bitcoin terminals. Partnering with PAI will create the perfect opportunity for continued growth and success for these Divisions.
Deal Team
We would also like to thank the deal teams for both sides that worked on this transaction. We could not have completed this transaction without your tireless efforts. More specifically, we'd like to thank the following firms: Gross & Gross, LLC, The Oswald Companies, and Greathouse Holloway McFadden Trachtenberg PLLC.
"MelCap identified potential strategic and non-strategic buyers that would be the best candidates to achieve our desired outcome. They took the lead on all the steps in the deal-making process and constantly discussed key points with us along the way. MelCap was involved in the entire process from the APA and post-closing decisions to ensure a smooth and successful transition. Highly recommended and trustworthy."
Evan Brown and Greg Brown
President and Vice President of B&B
Providing the Services Business Owners Need for Over Two Decades
At MelCap Partners, our team of experienced industry professionals has a high amount of respect for business owners making pivotal decisions — whether they're selling their business or expanding. We do our best to provide services that honor the work they've put into building their business from the ground up.
We know the big events concerning your business are hard, especially if family is involved, and that's why our team is ready to help so you don't have to go through the process alone. We'll help you navigate any challenges that come your way so you can successfully meet your goals and objectives.
If you're ready for help taking the next step in pursuing your goals, we'd love to use our experience to get you there. We know that getting to this point hasn't been easy and we're here to walk you through the process. If you're ready to start, we'd love to have you connect with one of our professionals today.
Category:

Consumer & Retail, Industries, Private Equity, Sell-Side M&A, Specialty Distribution
Need help with your transaction?
We work with you to ensure that we understand your goals to put a plan in place for your transaction.
Let's Talk