Ashland Conveyor Products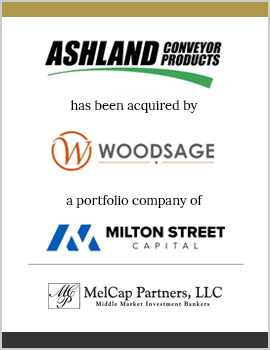 Company Description
Ashland Conveyor Products is a leading manufacturer and provider of conveyor systems and related parts and accessories. The Company manufactures a complete offering of conveyor systems, including i) gravity conveyor systems, which consist of roller, skatewheel, and telescoping conveyors, and ii) power conveyors, which include power belt and chain-driven live roller conveyors. Ashland Conveyor also provides a significant variety of accessories and replacement parts. Serving hundreds of customers per year, Ashland Conveyor's material handling customer base spans a variety of markets, including e-commerce order fulfillment, distribution, and retail.
Services Provided
MelCap Partners served as Ashland Conveyor's exclusive investment banker and financial advisor in the sale of the business. We'd like to thank Mr. Tim Swineford, President, and Mr. Bill Waltz, CFO, for hiring MelCap Partners to represent the Company in this once in a lifetime transaction. It was an honor and pleasure to work with them throughout this exciting process.
Result
In an effort to provide the shareholders with liquidity, and to continue to support Ashland Conveyor's strategic growth plans, MelCap Partners was able to successfully identify the best partner for the business. As a result, Ashland Conveyor was sold to Woodsage in Holland, OH, a portfolio company of Milton Street Capital, which is headquartered in Houston, TX. Woodsage principally manufactures and markets specialty steel rollers and other components used in conveyor system solutions across the material handling industry. Milton Street Capital is a private equity firm focused on control investments in the North American lower middle market industrial sector.
"Value and legacy are two primary concerns of an invested business owner. The MelCap Team has the network, reach, knowledge, and energetic staff to maximize the seller's value and navigate all the ebbs and flows of the demanding M&A process. MelCap also appreciates a seller's desire to leave a legacy that cares for and respects all stakeholders, including both customers and employees. This combination makes MelCap a formidable player in the M&A market and sensitive to the needs of an invested seller. Thank you MelCap Team for maximizing our value and caring for all our stakeholders!"
Tim Swineford
President of Ashland Conveyor
Providing the Services Business Owners Need for Over Two Decades
At MelCap Partners, our team of experienced industry professionals has a high amount of respect for business owners making pivotal decisions — whether they're selling their business or expanding. We do our best to provide services that honor the work they've put into building their business from the ground up.
We know the big events concerning your business are hard, especially if family is involved, and that's why our team is ready to help so you don't have to go through the process alone. We'll help you navigate any challenges that come your way so you can successfully meet your goals and objectives.
If you're ready for help taking the next step in pursuing your goals, we'd love to use our experience to get you there. We know that getting to this point hasn't been easy and we're here to walk you through the process. If you're ready to start, we'd love to have you connect with one of our professionals today.
Category:

Industrials, Private Equity, Sell-Side M&A
Need help with your transaction?
We work with you to ensure that we understand your goals to put a plan in place for your transaction.
Let's Talk