We're Off to an Exceptional Start to the Year
MelCap Partners, LLC has closed five deals in the first half of 2019, giving the investment firm the strongest start to the year in its history.
Successful Transactions in 2019
This year, our firm has served as the investment banker and financial advisor in assisting: Hanline in acquiring certain operating assets of FlavorCo USA, Inc.; the sale of the business of Logicorp Enterprises, LLC to Outwest Express, LLC; and was brought in by SawMill Creek's trusted advisor to help with the sale of the business to Cedar Fair. The two other deals in which we served as an investment banker were WeedPro's acquisition of Sweet Lawns and aiding Premier with the sale of significant equity interest to Excurro. Below, you will learn more about the top three deals we helped close.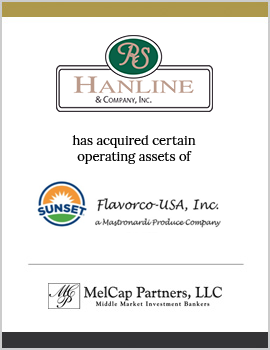 R.S. Hanline Company Acquired Certain Operating Assets of FlavorCo USA, Inc.
R.S. Hanline Company was looking to get into the frozen foods business and expand its product offerings, so they turned to us to assist in helping acquire certain operating assets of FlavorCo USA, Inc. Hanline has been a longstanding client of ours for 20 years, and we have successfully helped them navigate various M&A transactions throughout the years which gave us the opportunity to serve as an investment banker and financial advisor for this deal.
Logicorp Enterprises, LLC has been acquired by Outwest Express, LLC
When Logicorp Express, LLC was looking to sell, they needed to find a firm that would find a strategic buyer that made the most sense. Having experience and industry knowledge from previous trucking, transportation, and logistics deals, we were brought in by one of Logicorp's trusted advisors. Now, Outwest has added Logicorp's assets to its operation, providing services in the Southwest with a well-equipped fleet of company-owned tractors and trailers.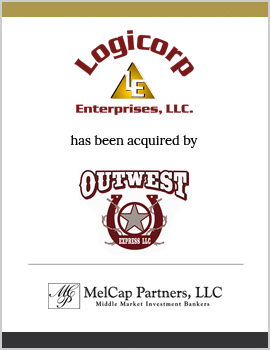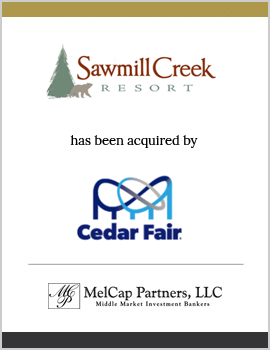 SawMill Creek has been acquired by Cedar Fair
SawMill Creek operated a 50,000 square-foot conference facility in addition to the 236-room resort on 235 acres. They needed to sell but had to find the most strategic buyer. MelCap was introduced to SawMill by one of its most trusted advisors. The process was competitive, but ultimately MelCap was able to successfully serve as SawMill's financial advisor and investment banker of the sale to Cedar Fair. Cedar Fair Entertainment Company owns and operates 13 amusement parks, and complements those with water parks, hotels, recreational properties, and resorts, like SawMill Creek.
Contact Us!
MelCap Partners can assist you whether you are looking to sell your business, acquire another, or just raise capital. Contact us, we are here to help!
[tcb-script src="https://melcap.activehosted.com/f/embed.php?id=28″ type="text/javascript" charset="utf-8″][/tcb-script]
About MelCap Partners, LLC
MelCap Partners, LLC is an independent private investment banking firm in Cleveland, Ohio that was founded in 2000. We work with our clients by helping them find the most logical and strategic buyer, assisting them in reaching their M&A goals. Our relationship-style approach has successfully helped our clients reach their objectives for two decades, providing us with future opportunities to continue their growth and ours.
Copyright © 2017 MelCap Partners, Inc. All rights reserved