Wenco Wooster, Inc.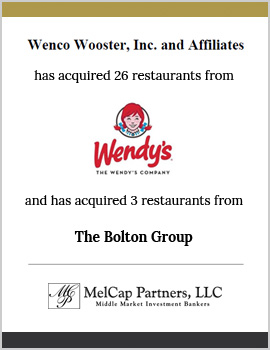 Company Description
Wenco Wooster, Inc. and Affiliates, after completing its recent acquisitions, now consists of 62 Wendy's restaurants throughout the Ohio and Indiana region. Wenco is recognized by the franchisor, The Wendy's Company, as an "A-rated" operator. As a result, Wenco was provided with this opportunity to add to its portfolio of Wendy's restaurants.
Services Provided
MelCap Partners assisted Wenco in acquiring 26 restaurants from The Wendy's Company and 3 restaurants from The Bolton Group. As the Company's investment-banker and financial advisor through this process, MelCap Partners assisted Wenco in analyzing the merits of the acquisitions, conducted store level financial analysis, and developed various financing structure alternatives.
Result
In an effort to continue to support Wenco's aggressive growth plans, the Company successfully completed the acquisition of these 29 additional restaurants. Once integrated, the Company will be poised for future restaurant additions as made available in the market.
"MelCap Partners did a great job in helping us analyze these two acquisitions. As a long-time franchisee, we have been growing very rapidly, and their analysis and support were instrumental in helping us complete these transactions. We look forward to working with them again on our next acquisition."
Mr. Zane Gross
Wenco's President
Providing the Services Business Owners Need for Over Two Decades
At MelCap Partners, our team of experienced industry professionals has a high amount of respect for business owners making pivotal decisions — whether they're selling their business or expanding. We do our best to provide services that honor the work they've put into building their business from the ground up.
We know the big events concerning your business are hard, especially if family is involved, and that's why our team is ready to help so you don't have to go through the process alone. We'll help you navigate any challenges that come your way so you can successfully meet your goals and objectives.
If you're ready for help taking the next step in pursuing your goals, we'd love to use our experience to get you there. We know that getting to this point hasn't been easy and we're here to walk you through the process. If you're ready to start, we'd love to have you connect with one of our professionals today.
Category:

Buy-Side M&A, Consumer & Retail, Food
Need help with your transaction?
We work with you to ensure that we understand your goals to put a plan in place for your transaction.
Let's Talk