Steam Turbine Alternative Resources, Inc. (STAR)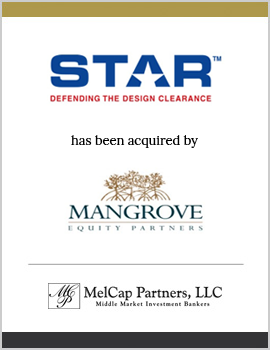 Company Description
Steam Turbine Alternative Resources, Inc. ("STAR") is a leading manufacturer and service provider of mission critical static seals for the steam turbine industry. Star Field Fit, Inc., a sister company to STAR, produces on-site measurement and installation services for packing rings in turbines.
Services Provided
MelCap Partners served as STAR's exclusive investment banker and financial advisor in the sale of the business. We'd like to thank the Shareholders at STAR for hiring MelCap Partners to represent them in this once in a lifetime transaction. It was an honor and pleasure to work with such an outstanding group.
Result
In an effort to provide the Shareholders with liquidity, to continue to support the Company's strategic growth plans, and to continue to provide its customers with high-quality products, MelCap was able to successfully identify the most logical buyer for the business. As a result, STAR was sold to Mangrove Equity Partners, LP, a premier Tampa, Florida based lower middle-market private equity firm. Mangrove's unique knowledge and experience made them the ideal buyer for the business, which will allow the Company to reach it's full potential over the next several years.
"Thank you for all your hard work to get this deal done! You have done an outstanding job for us and we are most grateful for all the hard work and long hours this took to get to the finish line. It was a struggle at times, but I am so proud of the MelCap team for your excellent work! It is quite an up and down feeling for us today, but we are happy for the Company and all of STAR's employees. Thank you again from the bottom of my heart."
Sue Flaherty
Founder & CEO of STAR
Providing the Services Business Owners Need for Over Two Decades
At MelCap Partners, our team of experienced industry professionals has a high amount of respect for business owners making pivotal decisions — whether they're selling their business or expanding. We do our best to provide services that honor the work they've put into building their business from the ground up.
We know the big events concerning your business are hard, especially if family is involved, and that's why our team is ready to help so you don't have to go through the process alone. We'll help you navigate any challenges that come your way so you can successfully meet your goals and objectives.
If you're ready for help taking the next step in pursuing your goals, we'd love to use our experience to get you there. We know that getting to this point hasn't been easy and we're here to walk you through the process. If you're ready to start, we'd love to have you connect with one of our professionals today.
Category:

Industrials, Private Equity, Sell-Side M&A
Need help with your transaction?
We work with you to ensure that we understand your goals to put a plan in place for your transaction.
Let's Talk