Gonvarri MS Corporate SL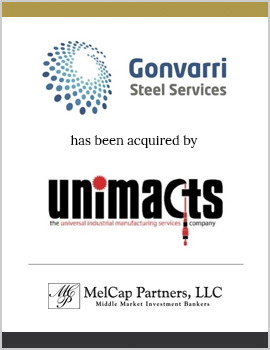 Company Description
Gonvarri MS Corporate SL, headquartered in Asturias, Spain, is part of Gonvarri Industries, a worldwide leader in the steel transformation sector for auto, road safety, material handling, and solar energy with more than 40 factories in 19 different countries and revenue of 3.5 billion euros. Gonvarri MS made a strategic decision to divest its North American contract manufacturing business to focus on engineered components, parts, and systems for the solar industry. Gonvarri MS Baja California is a contract manufacturer of steel products used in the framing of fixed and tracker solar structure systems in the U.S. and Mexico.
Services Provided
MelCap Partners, LLC ("MelCap") served as Gonvarri MS's exclusive investment banker and financial advisor in the sale of Gonvarri MS Baja California.
Result
Through this process, MelCap was able to successfully identify the ideal buyer for the business. As a result, Gonvarri MS Baja California was sold to Unimacts, a global industrial manufacturing services company with a presence in North America, Western Europe, Asia, and Australia, and a leading global supplier for the solar industry with production and distribution of mechanical solar components and assemblies in more than 10 countries around the world. The acquisition will give Unimacts a production facility in North America to produce tubes, piles, and other solar components in Mexico while also becoming more of a solutions provider in North America.
"MelCap worked diligently to support Gonvarri through the sale process, adapting as necessary to obtain a successful closing. We would recommend them for future business."
Juan Pradera Angulo
Vice President-Business Development
Providing the Services Business Owners Need for Over Two Decades
At MelCap Partners, our team of experienced industry professionals has a high amount of respect for business owners making pivotal decisions — whether they're selling their business or expanding. We do our best to provide services that honor the work they've put into building their business from the ground up.
We know the big events concerning your business are hard, especially if family is involved, and that's why our team is ready to help so you don't have to go through the process alone. We'll help you navigate any challenges that come your way so you can successfully meet your goals and objectives.
If you're ready for help taking the next step in pursuing your goals, we'd love to use our experience to get you there. We know that getting to this point hasn't been easy and we're here to walk you through the process. If you're ready to start, we'd love to have you connect with one of our professionals today.
Category:

Industrials, Sell-Side M&A
Need help with your transaction?
We work with you to ensure that we understand your goals to put a plan in place for your transaction.
Let's Talk