Gibson Machinery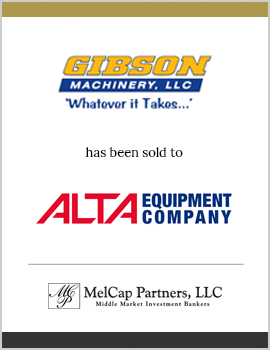 Company Description
Gibson Machinery is a leading distributor of construction, paving, demolition, and material handling equipment to a diverse base of customers across Ohio, Pennsylvania, West Virginia, and adjacent states. The Company sells, rents, and services a full suite of new and used heavy equipment. Headquartered in Cleveland, OH, Gibson operates as an exclusive dealer for 5 leading OEMs including Doosan, Sennebogen, Genesis, Dynapac, and Indeco.
Services Provided
MelCap Partners served as Gibson's exclusive investment banker and financial advisor in the sale of the business. We'd like to thank the Shareholders of Gibson, Mr. Lee Gibson and Mrs. Larysa Gibson, for hiring MelCap Partners to represent them in this once in a lifetime transaction. It was an honor and pleasure to work with them, and the management team of Lauren Gibson and Meredith Gibson-Cavell throughout this exciting process.
Result
In an effort to provide the shareholders with liquidity, and to continue to support Gibson Machinery's strategic growth plans, MelCap was able to successfully identify the ideal buyer for the business. As a result, Gibson Machinery was sold to Alta Equipment Company [NYSE:ALTG] ("Alta"), headquartered in Livonia, MI. Alta, publicly traded on the New York Stock Exchange, is an industry leading material handling and construction equipment company that sells, rents, and services a broad range of equipment. The acquisition of Gibson Machinery is instrumental in aiding Alta's strategic initiative to expand its geographic footprint in Ohio and the surrounding states.
"The MelCap team did a fantastic job in selling our Company. They were there every step of the way, from the initial distribution of the CIM to corporations and equity groups, to narrowing the field down to the top four or five candidates, and to the final choice. They then assisted us with the entire due diligence process, and the signing and closing of the Asset Purchase Agreement. I would recommend them to anyone looking to sell their company!"
Lee Gibson
President of Gibson
Providing the Services Business Owners Need for Over Two Decades
At MelCap Partners, our team of experienced industry professionals has a high amount of respect for business owners making pivotal decisions — whether they're selling their business or expanding. We do our best to provide services that honor the work they've put into building their business from the ground up.
We know the big events concerning your business are hard, especially if family is involved, and that's why our team is ready to help so you don't have to go through the process alone. We'll help you navigate any challenges that come your way so you can successfully meet your goals and objectives.
If you're ready for help taking the next step in pursuing your goals, we'd love to use our experience to get you there. We know that getting to this point hasn't been easy and we're here to walk you through the process. If you're ready to start, we'd love to have you connect with one of our professionals today.
Category:

Construction and Building Products, Consumer & Retail, Industrials, Sell-Side M&A
Need help with your transaction?
We work with you to ensure that we understand your goals to put a plan in place for your transaction.
Let's Talk