Firstar Precision Corporation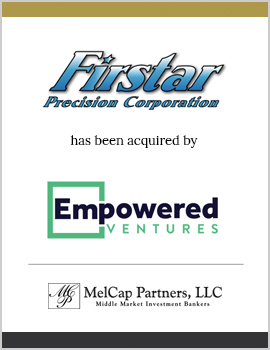 Company Description
Firstar Precision Corporation operates as an ISO 9001:2015 certified precision machining business that specializes in the turning, milling, and electrical discharge machining of tight-tolerance products primarily for the assembly tooling, food processing, and medical industries.
Services Provided
MelCap Partners served as Firstar's exclusive investment banker and financial advisor in the sale of the Company. We would like to thank Firstar's Shareholder, Dave Tenny, for hiring MelCap Partners to represent him in this important transaction. It was an honor and pleasure to work with him and his team through this exciting process.
Result
In an effort to provide Mr. Tenny with liquidity, and to continue to support Firstar's strategic growth plans, MelCap was able to successfully identify the ideal buyer for the business. As a result, Firstar was sold to Empowered Ventures, headquartered in Carmel, IN. Empowered Ventures buys closely held businesses with track records of success, investing in the long term without any intention of selling. Employees at Firstar will also be a part of Empowered's ESOP program.
"From the first time I engaged MelCap, I knew I was in good hands and that the sale of my life-long dream would be handled with excellence. I have never experienced a team that works so well together, the personal engagement and genuine care resonated throughout the process. The team kept us informed and updated throughout the process and I believe connected us with a once in a life time partner in Empowered Ventures. The future of Firstar Precision is bright and we all congratulate MelCap Partners on a job excellently done!"
Dave Tenny
President of Firstar
Providing the Services Business Owners Need for Over Two Decades
At MelCap Partners, our team of experienced industry professionals has a high amount of respect for business owners making pivotal decisions — whether they're selling their business or expanding. We do our best to provide services that honor the work they've put into building their business from the ground up.
We know the big events concerning your business are hard, especially if family is involved, and that's why our team is ready to help so you don't have to go through the process alone. We'll help you navigate any challenges that come your way so you can successfully meet your goals and objectives.
If you're ready for help taking the next step in pursuing your goals, we'd love to use our experience to get you there. We know that getting to this point hasn't been easy and we're here to walk you through the process. If you're ready to start, we'd love to have you connect with one of our professionals today.
Category:

Industrials, Private Equity, Sell-Side M&A
Need help with your transaction?
We work with you to ensure that we understand your goals to put a plan in place for your transaction.
Let's Talk