Applied Vision Corporation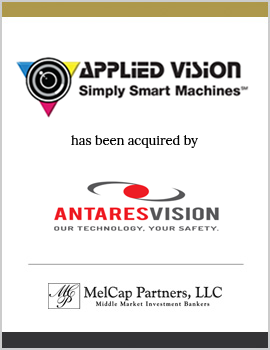 Company Description
Applied Vision is a global leader in the design development, engineering, and production of machine vision technology and inspection systems used in the food and beverage industries. The Company offers unique, patented solutions and customized products and services that meet customer-specific needs for vision inspection, while maintaining production speed. The Company also offers 24/7 service and support to its customers globally.
Services Provided
MelCap Partners served as Applied Vision's exclusive investment banker and financial advisor in the sale of the business. We'd like to thank the Shareholders at Applied Vision, Amir and Manijeh Novini, for hiring MelCap Partners to represent them in this once in a lifetime transaction. It was an honor and pleasure to work with them through this exciting process.
Result
In an effort to provide the Shareholders with liquidity, to continue to support the Company's strategic growth plans, and to continue to provide its customers with high-quality products, MelCap was able to successfully identify the ideal partner for the business. As a result, Applied Vision was sold to Antares Vision, a publicly traded company on the Italian stock exchange (Borsa Italiana), headquartered in Travagliato, Italy. Antares' unique knowledge and experience made them the ideal buyer for the business, which will allow Applied Vision to reach its full potential over the next several years. Antares Vision is a global leader in providing inspection systems for product quality control, track & trace solutions, and smart data management for the most demanding markets. Partnering with Antares will create the perfect opportunity for continued growth and success for Applied Vision.
"In an effort to help us with this process, we interviewed a number highly qualified firms with national and international experience, and familiar with technology-oriented companies similar to us. We chose MelCap Partners as they were the most capable, passionate, and caring about our goals. We wanted to find a partner firm that would give Applied the best chance of continuing what we started over 23 years ago. MelCap was able to locate a suitable synergistic company in Antares, that will enable the Company to achieve further growth and opportunities for our employees and to increase value for customers. It was an absolute pleasure and we are delighted with the choice we made! Congratulations to the first-class professional team at MelCap. We highly recommend this team to anyone who is in need of a knowledgeable and experienced investment banking firm."
Amir and Manijeh Novini
Applied Vision Corporation
Providing the Services Business Owners Need for Over Two Decades
At MelCap Partners, our team of experienced industry professionals has a high amount of respect for business owners making pivotal decisions — whether they're selling their business or expanding. We do our best to provide services that honor the work they've put into building their business from the ground up.
We know the big events concerning your business are hard, especially if family is involved, and that's why our team is ready to help so you don't have to go through the process alone. We'll help you navigate any challenges that come your way so you can successfully meet your goals and objectives.
If you're ready for help taking the next step in pursuing your goals, we'd love to use our experience to get you there. We know that getting to this point hasn't been easy and we're here to walk you through the process. If you're ready to start, we'd love to have you connect with one of our professionals today.
Category:

Food, Industrials, Sell-Side M&A
Need help with your transaction?
We work with you to ensure that we understand your goals to put a plan in place for your transaction.
Let's Talk